TOMORROW, 12/13: PTA Meeting & Middle School Panel
December 13th, from 5:00-6:30pm. Snacks provided.
5:00-6:00pm APG Middle School Panel (library)
Former Sunset students and a current AP Giannini teacher will answer questions submitted by our 5th grade students.
6:00-6:30pm PTA Meeting (library) with childcare (auditorium).
At the PTA meeting, we will be voting to increase funds for the play yard, hospitality and school beautification budgets. The PTA board with support from Principal Lee and the teachers would like to discuss and vote on adding turf to the soccer area of play yard. A sample of the turf is on the PTA board (near the front door). There are no rubber pellets. Please ParentSquare message "Sunset PTA" or email president@sunset-pta.org with questions or comments.
---
Come Support Our Playworks Girls Basketball Team!

Coach Melissa has recruited 14 4th and 5th grade girls for our Playworks Girls Basketball Team! They will be representing Sunset at their first game this Thursday, December 13th at Bret Harte Elementary at 4:30pm. Come by and cheer them on.
---
Help with 12/13 School Tour
We only have two school tour dates left! We're in need of parent volunteers to help welcome prospective parents tomorrow morning,  December 13th. It's easy! Just meet in the lounge area in front of the library and put on a name tag after the morning bell rings. Our visitors have lots of questions. Help us to answer them and tell them what a great school we have. The tour runs from 9:00-10:30am, and you're welcome to stay as little or as long as you like. Hope to see you there!
---
The Next Walk and Roll to School Day is Tomorrow (12/13)!
Sunset is one of many schools all over San Francisco participating in monthly 4 Fun Ways to School days. These events promote health and physical fitness for your family, and help your students get off to a great start in the morning and meet other Sunset families in your neighborhood!
We will meet at the northeast corner of Kirkham & 37th Avenue at 8:25 sharp. You may also choose your own route. Please remember to cross streets safely, and have fun!
---
Winter Program, 12/20
Join us next Thursday, December 20th, for our annual Winter Holiday Program! Grades K-2 student performances will begin at 9:30am while Grades 3-5 will perform starting at 10:30am. See you there.
---
Art News from Ms. Ingrid: Sunset & Beyond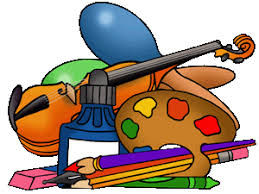 Just a reminder: The Sunset Student Chorus performs this week on December 12th at the Fairmont Hotel at 11:45
Check out the new art in the hallways: Mr Ma's class's Indian Miniature paintings and Ms. Lynn's class's Audubon-inspired prints on their bulletin boards. The glass case by this office is displaying Ms. Nikaji's student's Egyptian-inspired clay jars and Ms. Edler's class's  Monet-inspired waterlilies.
Looking forward to lots of performances next week with the Winter Program on December 20th and the Instrumental Music Concert on the 21st.
Arts events and exhibitions across the City:
Mission Science Workshop: FREE Hands-on Science Saturday
December 15th, 10:00am, 4458 Mission St, San Francisco, CA 94112
Mission Science Workshop is a non-profit community science center for SF youth and families. At their free Saturday open house program, you can build toys and projects, hold snakes and lizards, explore the collections of bones and fossils, and more.
Painting Is My Everything: Art From India's Mithila Region
Thru December 30, 2018 / Cost: SFUSD students FREE/ Asian Art MuseumWith precise skill and bold artistic vision, the 17 contemporary artists included in this exhibition, many of them women, employ a centuries-old regional styles to express personal experiences and viewpoints.